Service Department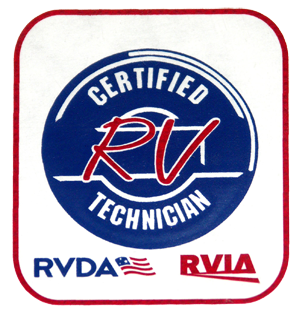 Your RV will always receive the best of care from our technicians here at Gib's RV Superstore. From roofs and appliances, to slide-outs and awnings, we are here to help you with all your RV service needs. We honor all warranty work for the products we sell. We accommodate any type of problem that may arise with your Forest River, Keystone RV, Outdoors RV or Winnebago in an efficient, precise and timely manner.

In addition to repairs on your RV, it is important to schedule regular maintenance to your RV. From inspecting wheel bearings and brakes to furnace tune ups to winterizations, we can do it all. Please see our recommended maintenance schedule to learn when and how often to maintain your RV.
Service Center Features
8 service bays able to accommodate any size RV or trailer
2 hydraulic lifts
State of the art tools and testing equipment
Seal Tech 430 - used to find exterior leaks in RV's
Service calls with the "RV Doctor"
We wash RV's
Service lot big enough for any RV
Insurance estimates - FREE
Body damage repair

Recommended Maintenance to your RV
We recommend servicing and maintaining the following components regularly. Maintenance is less costly than repairs.
Click here for a printer friendly version of the table below. 
Needed Service

6 Mos

12 Mos

18 Mos

24 Mos

30 Mos

36 Mos

42 Mos

48 Mos

54 Mos

60 Mos

66 Mos

Remove Wheel Bearings, Clean and Inspect, Repack with New Grease, Install with New Seals. Clean, Inspect and Check Brakes
 
x
 
x
 
x
 
x
 
x
 
Wheel Bearing and Brake Check
x
x
x
x
x
x
x
x
x
x
x
Roof Inspection for Damage, Sealant and General Condition, (Visual)
x
x
x
x
x
x
x
x
x
x
x
SEAL TEC 430 leak test roof seams, front and rear caps, corner moldings for air leaks, (Reseal by Estimate)
 
x
 
x
 
x
 
x
 
x
 
Slide Room Maintenance, Lubricate Rails and Gears, Apply Conditioner to Rubber Seals
 
x
 
x
 
x
 
x
 
x
 
Air Conditioner Performance Test and Clean Filter (New Filter will be additional)
 
x
 
x
 
x
 
x
 
x
 
LP Leak Test, Set LP regulator if needed
x
x
x
x
x
x
x
x
x
x
x
Furnace Tune-Up, Cleaning
 
x
 
x
 
x
 
x
 
x
 
Water Heater Tune-Up, Cleaning
 
x
 
x
 
x
 
x
 
x
 
Refrigerator Tune-Up, Cleaning
 
x
 
x
 
x
 
x
 
x
 
Readjust Weight Distribution or 5th Wheel Hitch Height
As Needed
Inspect 5th Wheel Hitch Tighten Bolts
 
x
 
x
 
x
 
x
 
x
 
Inspect Weight Distribution Assy. And Tighten Bolts
 
x
 
x
 
x
 
x
 
x
 
Basic De-Winterize, flush water lines, check for leaks and install water heater plug (ADD for Ice Maker and Washer)
 
x
 
x
 
x
 
x
 
x
 
Winterize annually (ADD for Ice Maker and Washer)
 
x
 
x
 
x
 
x
 
x
 
Pre-Trip Inspection, Check Appliance Operation, Charge Battery and test, Check Brake Operation, Lube Step, Stabilizer Jacks and Coupler
Any Time
Annual Spring Maintenance Special
 
x
 
x
 
x
 
x
 
x
 
Slide-Room Adjustment or Diagnosis
 
x
 
x
 
x
 
x
 
x
 
Check Electric Brake Controller Test & 7 pin Connector Test
As Needed
Clean and Treat Awning Fabric
 
x
 
x
 
x
 
x
 
x
 
Basic Exterior Wash of Sidewalls and Awnings
As Needed
Complete RV Wash, Includes Sidewalls, Awnings and Roof, Then we Apply Roof Conditioner
 
 
 
x
 
 
 
x
 
 
 
Service News
Congrats to 9 service team members on becoming Certified in 2019